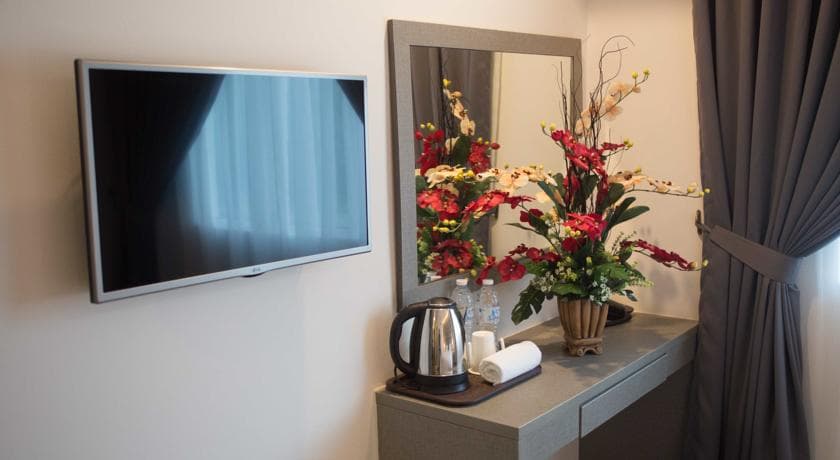 Amenities
Small touches for your perfect stay
We research and get to know your lifestyle to re-create the same comfort in our hotel. Our amenities are simple and small additions that make your stay with us more enjoyable. Often, it is the smallest things that matter the most for the best experience. The following list is a subset of the amenities we provide at our hotel.
At the hotel

Airport Transfer
For a small fee we provide hourly shuttle to KLIA & KLIA 2 airport.
Meeting Rooms
For your business needs, we have a meeting room that is available anytime for groups up to 50 people.

Free Wi-Fi in Public Areas
You're always connected to our 100 Mbps internet anywhere in our hotel.

Luggage Storage
For your convenience, our front desk is always ready to store your luggage.

Newspapers
Don't miss out on local and international news during your stay. We have newspapers available at the lobby.

Tour
Are you the adventurous type with a passion for exploration? Check out our travel desk at the lobby for city and local tours.

Shops
Need a bag of chips or soft drinks without the hassle of heading out? We have a convenience mart available in the main lobby for you.

Shared Lounge / TV Area
Feeling sociable? Head on over to our shared lounge where you can socialise with other guests.

24 Hour Font Desk
Arriving late in the night or in the early hours of the morning? Our front desk is always ready to welcome you at your convenience. This includes weekends and public holidays.

Free Parking
We have ample free car park spaces available across the hotel.

Elevator
All rooms are connected by an elevator so you don't have to drag your luggage up the stairs.
In your room

Shower
We have power showers with solar heater available in all rooms.

Ironing Facility
Ironing facility is available upon request.

Travel Adapters
We know your devices may require adapters, which is why we have international travel adapters in every room.

Family Room / Connecting Room
We provide family rooms for up to 4 people and interconnecting rooms for families travelling with children.

Satellite/Cable LCD TV
Television in rooms come with cable channels that include Fox Premium Movies, Discovery Channel, BBC News, and 8 local channels for all your media needs.

Free Wi-Fi
All rooms come with 100 Mbps Wi-Fi so you're always connected with the fastest speed.

Air Conditioned Rooms
Do you have your perfect temperature setting? All rooms have adjustable split unit air conditioner for the best comfort experience.

Coffee/Tea Making Facility
You can make coffee or tea at the convenience of your own room anytime.

Telephone
Wake up calls and room to room calling is available in all rooms.

Desk
Each room comes with a desk and chair to work on computers.

Complimentary Bottled Water
All rooms come with complimentary bottled water.

Non-smoking Rooms
Prefer clean and fresh air for better sleep? All our rooms are designated non-smoking rooms.